We make hay.
Literally! When the sun shines. Producing the ripest, most nutritious nibbles for tiny teeth and tummies.
We've been around a long time. 30 years in fact. And like the best family recipes, this knowledge has been passed down to the next generation. One that loves this pale blue dot of ours and your animals.
We produce a superior quality of crops and comfort that are kind to the planet, and little palates, nationwide.
We're fortunate to be able to make a living from the earth. That's why we make sure we give back. From our forests to our fields. Crop rotation's a way of life for us, so we applied the same thinking to our packaging. All plastic-free, fully biodegradable and 100% compostable. So, your bag and bedding can both find their way back into the soil when you're done. Happy days and heydays (see what we did there?) of happy, healthy pets.
Words from Will 
"It was my dad, Chris Peel-Yates, who started Pillow Wad back in the 80s. I guess you'd class it as a side hustle these days. It was a way to help bring in some extra cash alongside our dairy herd and the arable farming we were doing back then. Unlike many farmers' sons, it was never my intention to follow in the family footsteps. I went to Uni, then headed overseas for adventures snowboarding, holiday repping and travelling across three continents. But it was my roots that pulled me back.
Like Dorothy, I realised there's no place like home.
That was 18 years ago and I've never looked back. Pillow Wad's changed a lot since those early days. The side hustle has become a beloved business dedicated to doing the right thing for our planet, pets and the people that want the best for them both – you!
The farm is still very much a family affair. A couple of years ago I finally persuaded my good lady wife, Liz, to come on board. Now we, along with our incredible team, run this family together. With our son, Ted, and two spaniels there's never a dull moment but we couldn't be more happy or proud to work in this special place."
Fun on the Farm
This time of year we are extremely busy in the barn turning all the lovely raw products we made throughout the summer into gorgeous bags of feed and bedding for your pets.
Outside not much is happening above the surface but below ground is a different matter. We have planted wheat this year and the tiny seeds are busy soaking up all the nutrients from the ground and are safely tucked away under the soil. We've had our neighbour's sheep grazing on some of our meadows and the grass is steadying away!
Come back in the spring to see what's happening and keep up with the day-to-day on our social channels.
Planet Kind
For us it's all about sustainability. We are custodians and if we don't look after the land now, the next generation suffers.
A few years ago we began to plant trees in one of the corners of the farm and we love to watch the copse develop and change over time.
Like you, sustainable shopping is a priority for us. So, when it came to our packaging, we wanted to sell exactly what we'd choose to buy ourselves, that's:
Plastic- free: Absolutely no polymers here; just spud starch!
Fully biodegradable: It will break down & leave nothing nasty behind.
100% compostable: pop it in your compost or food caddy
Breathable: to keep products fresher for longer
Bags that give back to the soil when they've shed their skin. Ok that's a clue… have you guessed?
They're made from potato starch. And we think they're pretty awesome!!
We are always thinking of other ways we can reduce our carbon pawprint, so a few years ago we had a 50kW solar panel system installed on all the barn roofs. This 200-panel system will produce clean, renewable energy for at least 25 years; reducing our carbon footprint by up to 23.9 tonnes per year and providing around 25% of our total energy requirements.
The replacement of our existing fork trucks with electric ones swiftly followed and we are excited to say that the next big project is working out how we can utilise all the dust that gets extracted from our products and turn that into clean energy as well. Watch this space!!!!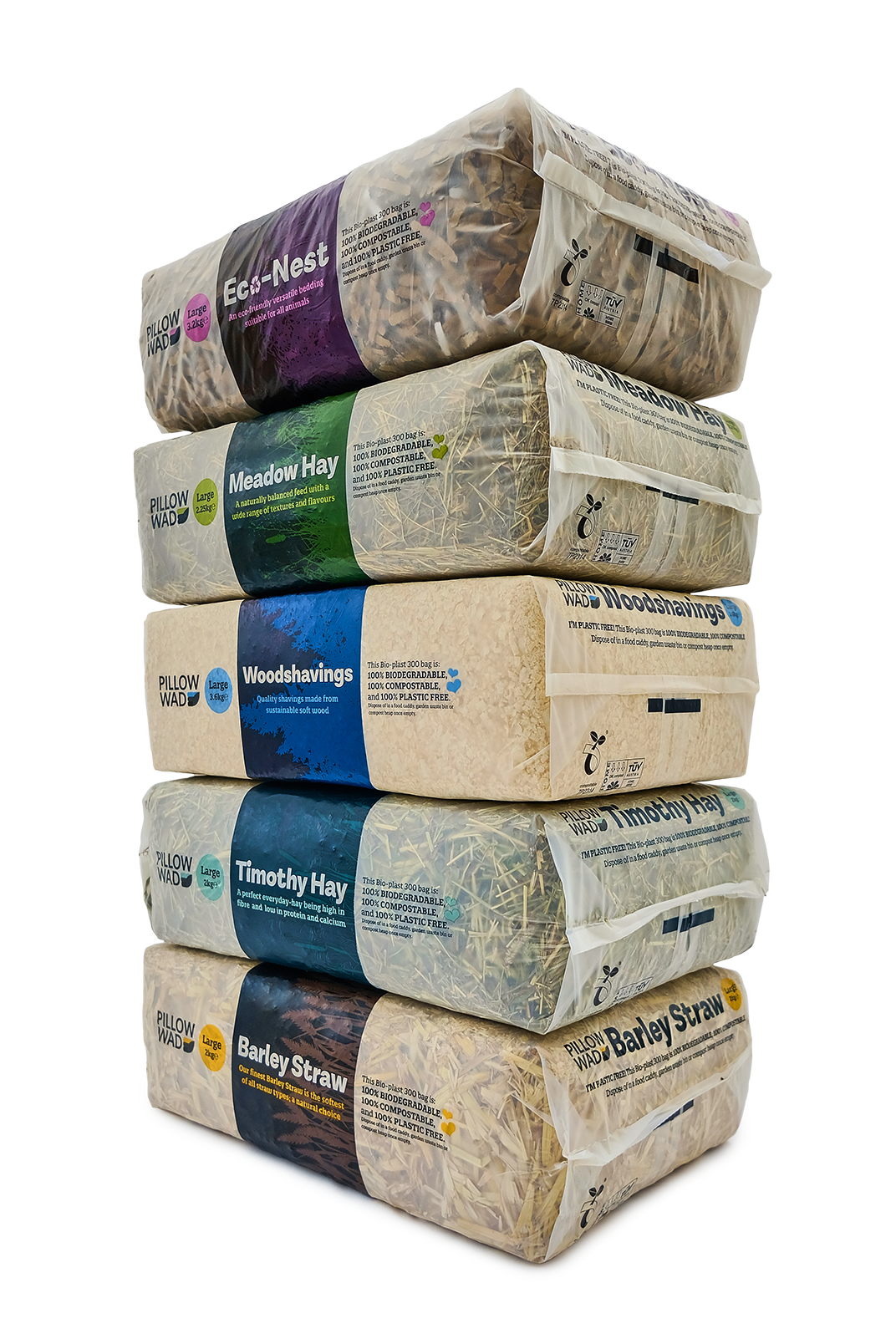 Love how fresh the timothy hay smells! It's the only hay that my guinea pigs won't leave untouched and strewn around their run.